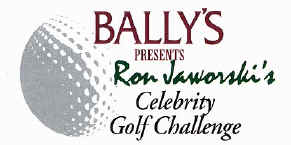 ACME
Celebrity Shoot-Out "2001"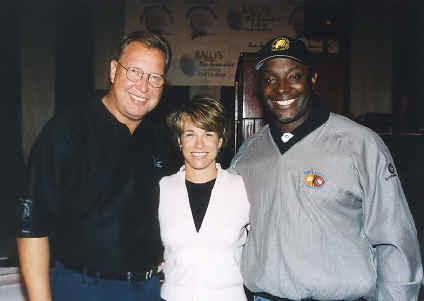 Broadcasters Ron Jaworski, Suzy Kolber and Sterling Sharpe
Click on photos to enlarge
| | |
| --- | --- |
| (L-R)Sterling Sharpe jokes around with his amateur playing partner, Joe Pisarcik and Ron Jaworski before play begins. | (R-L) Michael Strahan and Marshall Faulk have a few laughs with the other contestants during the Celebrity introductions. |
| Michael Strahan and Ottis Anderson clown around after Ottis just eliminated Michael from the Shoot-Out. | Tony Siragusa strong arms Ron Jaworski into telling him how to attempt his putt so he is not eliminated from the Shoot-Out. |
| | |
| --- | --- |
| Jim Plunkett former Oakland Raiders quarterback, Champion and MVP of Super Bowl XV, was invited to the Celebrity Shoot-Out so Ron Jaworski could have a chance to get even for the defeat of Super Bowl XV. Ron did get his revenge. | Reggie Leach, former Philadelphia Flyers All-Star, makes a birdie putt for his team to stay alive in the Shoot-Out. |
| Marshall Falk, NFL's MVP for the 2000 season, chips onto the green and tries to keep his team from being eliminated from the Shoot-Out. | Joe Pisarcik, former NFL QB and last years winner of the Shoot-Out, Captains his team to back to back victories of the Shoot-Out. When Joe was asked about next years Shoot-Out, his response was "Threepeat" |
| | |
| --- | --- |
| Sterling Sharpe thought he made a great shot during the sudden death chip-off against Joe Pisacik, but it wasn't good enough. | Sterling Sharpe used up all of his nine lives to survive to the final hole, but lost to Joe Pisarcik by 9" in the sudden death shootout 54" to 45" |
| Ron Jaworski presents Sterling Sharpe with the Longest Drive Award. | ACME was the winning team of the Ron Jaworski's TOYOTA Celebrity/Am. The team was captained by Sterling Sharpe |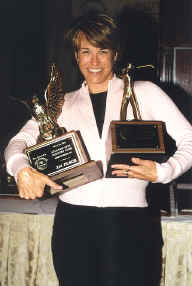 Suzy Kolber

Anchor "One year of Golf "
Copyright © 1999-2004 Tournament Shooters. All rights reserved. This material and Photos may not be reproduced, published, rewritten or redistributed. All rights reserved.